Frequently Asked Questions
Many people and as well as our customers have different questions about our home painting service. Here is the list of few question that we hear at Sunshine Home Painting Service.
General Questions

How can I get a quote for painting Service in Kolkata?
Very simple, you just need to dail 7278172759 or fill up our enquiry form and schedule free home inspection. Our Executive will visit your home and offer you a free quote.

What are the standard Paint for interior home painting in Kolkata?
Here is the list of standard interior home paints.
1. Dulux Velvet Touch Diamond
2. Asian Paint Royale Shyne
3. Berger Silk
4. Asian Paint Royale Matt.

Does someone have to visit my home before I can confirm a Service?
Yes. Without your home inspection how can i offer you a quote thats why someone from our team have to visit your home to offer free qoute.

Do you provide painting service in salt lake city, bidhannagar, Kolkata ?
Yes We provide home painting service in salt lake kolkata.

Do you provide paints or I have to buy it ?
Absolutely not, you dont have to buy any kind of material or equipments. We will provide all the material as well as equipments.
Home Painting Scheduling Questions

Are your painters in kolkata are background verified ?
Yes, All Our painters in kolkata are verified as well as professionals.

Does your team members cover my floor as well as all furnitures ?
Not Floor but our painter mask all the item like wardrobe, window, almirah, switch board, lights, etc.

Does you change my painter everyday ?
No, Not at all we keep same group of painters on every visit.

When your painters will arrive at my home ?
Our Painters will arrive at your doorstep at 9:00am.

When your painters depart from my home ?
Our painter will depart around 4 PM.
Home Painting Questions

What's process of standard home painting?
1. Proper masking of floor and all furnitures
2. Sanding
3. Prime the wall
4. Film of acrylic putty
5. Sanding
6. Again prime the wall
7. Apply 3 coat Paint On Walls

How to select paints brands and colour?
Here is a list of top 4 paints brands in india:
1. Asian Paints
2. Berger Paints
3. Dulux Paints
4. Nerolac

What other services do you offer?
We Offer a range of services:
1. Interior Home Painting Service
2. Exterior Home Painting Service
3. Texture Home Painting Service
4. Wall Painting Service
5. Hand art painting

How many painters come for painting?
It's completely depend on size of projects. On an Average we send 2 painters daily.

Do you clean my home after painting is over ?
Yes we clean your home once the painting work is complete.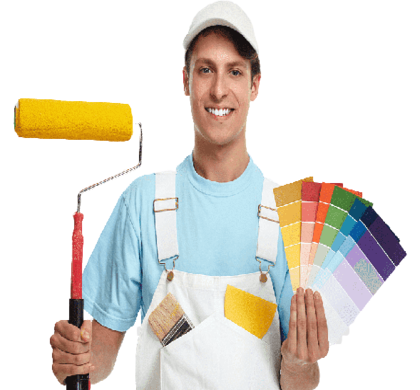 Get Home Painting Estimate(Kolkata)